About The Doctor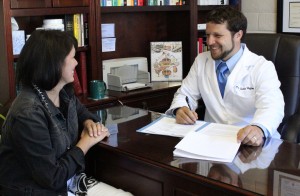 Dr. Justin Hoffman is a Licensed Naturopathic Medical Doctor.  He is widely recognized expert on integrative medicine, naturopathic medicine and weight loss.  Dr. Hoffman will supervise your care throughout your individualized medical weight loss program.
As a primary care Doctor, he focuses on the natural treatment of metabolic imbalances, endocrine disorders, musculoskeletal injuries and weight loss. He will create a treatment plan specifically for you, drawing from a variety of approaches including:  naturopathic medicine, integrative medicine, behavior modification, exercise therapeutics, detoxification, functional medicine, botanical medicine, medical nutritional therapy, preventative medicine and more.
Dr. Hoffman holds advanced certification in anti-aging medicine, orthopedic medicine as well as in prolotherapy and he also continues to teach, write and conduct ongoing research.
Your program will be supervised by Dr. Hoffman, and rather than being seen my many different office staff or assistants each time you come in, you will meet directly with the Doctor to ensure you are receiving the highest quality care possible.
Dr. Hoffman lectures on the following topics:
Metabolic Imbalances- Understanding the basis of health and maintaining a healthy weight
Diabetes- Understanding the effects of diabetes on the body and what you can do to prevent diabetes
Weight loss- Understanding the key concepts behind why the body stores fat and learning how help the body burn fat more efficiently
Understanding Menopause- How to  overcome the challenges associated with menopause so you can feel vibrant and healthy.
Fundamentals of Nutrition- How to maintain a healthy, nutritive and medically specific diet.
How to Go Gluten Free- Understanding how Gluten can harm the body as well as the basics of Gluten Free living
The Emotions of food- Understanding the emotions behind food addiction

To contact the offices of Dr. Hoffman, please call: 707-292-8882
Dr. Hoffman sees patients in the clinic on Wednesdays, Thursdays and Fridays at Tru Health Medicine., in Santa Rosa.  He also offers his "direct care" or home visits, two days a week by appointment.
Naturopathic Medicine, Naturopathy, Holistic Health, Holistic Healthcare, Alternative Medicine, Complimentary Medicine, Advanced Medicine, Medical Associates, Primary Care Doctors, Primary Care Physicians, Getting People Well, Healing, Balancing Hormones, Improving Sleep and energy Levels
Share |