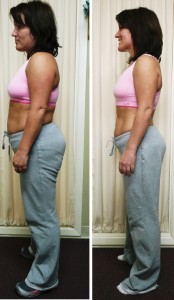 –Sonia Baker 45 years old, lost 38 pounds under the supervision of Dr. Justin Hoffman.  Participated in Dr. Hoffman's natural hCG weight loss program.
Here is what she had to say:
"My overall feeling about Dr. Hoffman's weight loss program is that it works! I am not going to pretend that it is easy; as you definitely need to have the motivation to be disciplined for success.  My decision to start the HCG diet came when I was feeling physically and emotionally exhausted after school, family, interning, volunteering, etc.  I had over taxed myself and my body had reached a point where I was completely exhausted.  I was especially frustrated because there were already so many things that I knew I needed and wanted to do for my health- but I couldn't.  I was too exhausted to begin an exercise program. And, I had tried so many other diets over the years.  I needed something that would finally work.

I spoke with Dr. Justin Hoffman regarding all of my concerns and after he looked at all of my labs and visited with me, he was confident that I was a good candidate for the program.  We went over my concerns and I was confident that significant change was what I needed; lifestyle changes.  I decided to begin the diet.  This is not a diet for someone who does not have the desire to commit to lifestyle change.  It is very disciplined and one must be ready to accept that discipline.
What I have found, is that the diet produces incredible change.  Physically I have gone from a size 12 to a current size 4 having lost nearly 38 pounds. The results are noticeable and I feel fantastic!
Within about two weeks of the diet, I found my energy beginning to return;  I never felt hungry though.  My complexion became healthier looking as well.  The hardest part of this diet is being disciplined – but it is worth it, and I wasn't hungry.  Seeing the results helps keep you on track! I now have great energy, and greater confidence in my life all around.  I am enjoying having to find new clothes to wear and will definitely be in a bikini this summer.
I fit in my wedding dress from twenty years ago now and this is after having three kids.  Daily I find people commenting on my weight loss and how great I look and how "bubbly" my personality is.  Dr. Hoffman has been a huge part of my lifestyle change and I don't think I could have done it without his superior support.  He was there every step of the way for me and answered all of my questions and concerns no matter how small they may have been.  He helped me through plateaus and encouraged me to not feel like we couldn't break through these points.  He always knew ways to approach them.  He is a fantastic doctor with a caring style.
Dr. Hoffman practices what he teaches, believing in a healthy lifestyle.  It is infectious.  During these last three weeks of my transitional phase, I have found that I am able to keep the weight off.  I have even lost a few more pounds during this phase.  My energy is great and I feel fantastic.
The best treat I have found is Coffee with Chocolate Stevia and English Toffee Stevia.  It is my daily treat.  Celery with hummus is another one of my favorite snacks.  For anyone who is ready to make a lifestyle change and greatly improve their health, I highly recommend Dr. Hoffman's program.  My life is much brighter."
If you are ready to feel like yourself again, to feel sexy and confident – Call 707-292-8882